Baby bull running in Madrid
Baby bull running Madrid.
Bullfighting is an art form th
at is continually misunderstood outside Spain. Campotoro.es offer you various ways in which you can enjoy and appreciate it in its own surroundings. A Capea is a baby bullfight or baby bull running with young bulls of up to 6 months( with horns) and you have two different ways of trying this out as detailed below – one for the faint hearted and one for the boys – you choose! For the aficionados Madrid and its surrounding villages have ample festivals that are celebrated with bullfights and you can book these through us. The season varies according to town, village or city. We show you to understand it.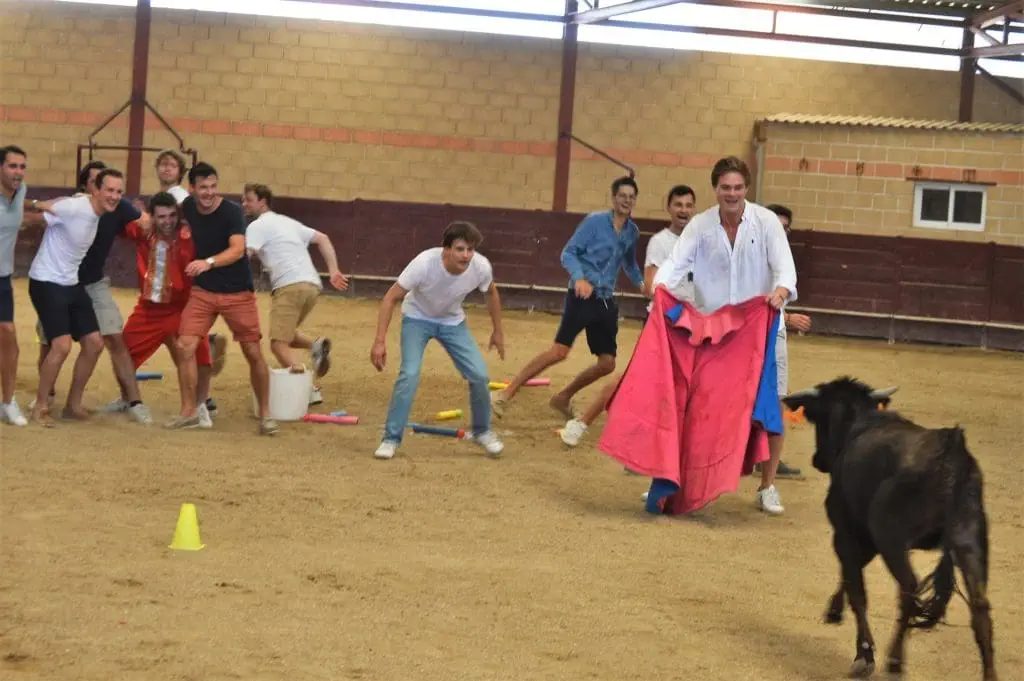 Visit a spanish brave bull livestock at campotoro.es
Capea or baby bull running.
If sitting back at the Bullfighting Arena "a la Orson Welles" is a little too sedate for you;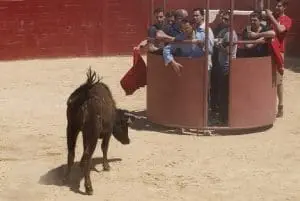 then why don't you have a go yourself! You become the bullfighter!
A capea is essentially a "baby bullfight" and n
on lethal. We take you to a private Finca,with its own Plaza de Torros, situated 45 minutes from the city centre. This is where the young bulls (known as vaquillas) are trained and where the young star Matadors learn their craft. You will get to show off your prowess and skill in front of your mates and err a charging bull! But don't worry too much, its not fully grown -Yet!
You can participate as much or as little as you want -for some once is enough for others- they discover the matador inside them. It definetly sorts the men from the boys!
Afterwards enjoy a sumptious meal, washed down with a fine Rioja and the inevitable beginning of a legend for the best mans speech!. Campotoro have several baby bull running packages, ideal for a stag party or for you visit to Madrid.
Choose you baby bull running package at campotoro.es
Running of the bulls and Capea. A little San Fermin in Madrid.



If you visit Madrid a trip to this leading bull breeding farm is a must. It is owned and run by one of the leading Toro families in Spain. Here on the outskirts of Madrid you will be given a unique insite and tour of the farm with its 200 head of cattle, including its Toro Bravo, where the bullfight and history can culture is explained to you.
Then the action starts as they size you up for your cojones by lining you up for a traditional Running of the bulls who chase you into the Plaza de Toros ( bullring) – where armed with your newly aquired knowledge and a little help from the experts "recortadores" you will face the younger bulls head on. Our monitors are experienced bull runners, you could check it in our website. To get the best experience go with real professionals, and local people. Because Its for you safety.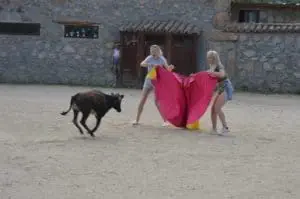 So an amazing day with your friend or family out by any reckoning and one that will long be talked about whenever men ( or women) with cojones or "balls" come together. You could take part or admire the bull demonstration by real bull leapers. Afterwards swap war stories over an excellent meat barbecue and washed down with amounts of beer and sangria. If you really want to get to see this we invite you to a bullfighting day with the best "recortadores" just take a look at http://campotoro.es Trust us – and feel the bull experience.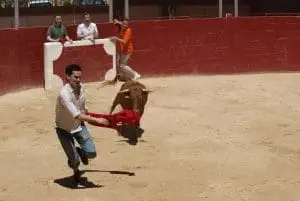 Stag Party its a good opportunity to live a capea. Live a little San Fermin with your friends.
Check http://campotoro.es, and contact us to live a capea! We have serveral packs to fit with you. Let us to dive you into Spanish culture. You wont regret it. Check our reviews… we are the best ones!.