BABY BULL RUNNING ADVICES AND RECOMMENDATIONS
Baby bull running advices and recommendations
After our experience organizing  baby bull running, here we put our advice to carry out a capea with the least number of incidents. The majority of the accidents in the capeas are not provoked by the heifers, but they are caused by the fear they cause us. Because we start to run without looking where and the only thing we look at is the heifer. The blows against the burladero and the Stumbles are much worse in most cases than a fuck by a heifer.
Then is very important is to wear comfortable clothes, which is light, to be able to be other than shorts. Because if you fall on the arena we will do more damage. With regard to footwear it is also important to wear sports shoes. We will have to run as possible.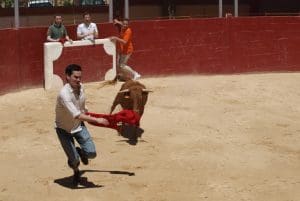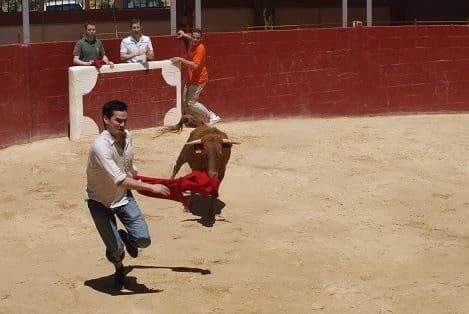 In the first place, the best tips before making a capea is not let the participants who consume alcohol go to the arena. When you consume alcohol your abilities decrease and you do not see the danger in the same way as when you have not consumed it.  Also many important fights occur when attendees have consumed alcohol. We must never lose sight of the heifer and we must maintain a safe distance with the animal. It is strictly forbidden to catch the animal.
In addition a great mith is that bulls follow red capes, bull charge against everything it moves. Bulls prefer movement. This is why they charge to the bullfighter´s crutch.
However, you can do the baby bull running under your own responsibility.
Do it with experts
These are the main tips you should follow before making a capea, and  always follow the advice of the monitors (were are real professionals with proven experience), to enjoy the capea without risk.
In conclusion, we will always be to your care. We show you the best techniques to fight and avoid the horns. Is easier than it looks like, just be brave and follow our rules.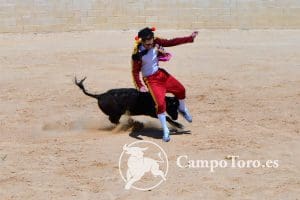 What we have to bring?.
Confortable clothes.
Sun protection.
Trainers.
Attitude to have fun
Visit Campotoro.es to see our special packages!
We have the best Madrid Baby bull running, come with us!. Contact us at campotoro.es@gmail.com.
Follow our instructions to enjoy it to the fullest.
We make the best baby bull running in Madrid, you wont regret it!.
Campotoro.es@gmail.com
Whatsapp: +34 636 63 90 89.