Bullfighting Madrid Tour.
Our visit consists of an authentic day at countryside, visiting both our ranch and our cattle ranch. A perfect familiar plan, to introduce into bullfighting Madrid culture.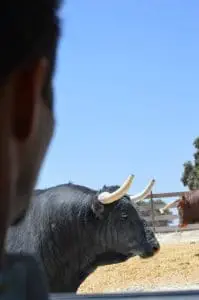 We make the personalized visit, depending on the number of people and following your interests and depending on the time of year.
The purpose of our visit to the Livestock of Bulls Bravos, is to show the breeding and feeding of the animals, and to be able to see our farm and facilities.
Depending on the time of year, and when these animals are on the farm, you can also enjoy watching horses,  rabits, foxes, falcons , baby bulls with their mothers 
For centuries bulls have been breding in these meadows and today we maintain the tradition as our ancestors began, feeding and improving the breed. A unique ecosystem in the world where most of the livestock farms graze.
Bullfighting Madrid Tour is a great experience. Learn the manage of bullfighting bulls in Madrid. See a bullfighting show. Walk through bulls and see them closest than ever you see before. Learn how bullfight bulls are selected.
After a day discovering a piece of Spanish culture. You can recover forces with typical dishes. All visits are complemented with tasting of typical products.
Contact us at CAMPOTORO.ES@GMAIL.COM to get a quote for your group.
And we can help you to get your Madrid bullfighting tickets to plaza de toros de las ventas, and other Madrid bullrings.