Why Madrid is the best city for stag do.
Spain's capital city is the Iberian version of New York. I.e the city that never sleeps. Well, maybe apart from a siesta that is. Head to Fuencarral for the liveliest nightlife. We would try to show you the best things to do for a bachelor party in Madrid.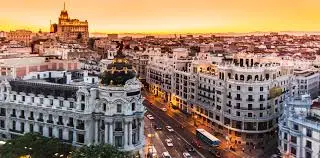 And the best baby bull running in Madrid with CAMPOTORO.
What to do on a bachelor party in Madrid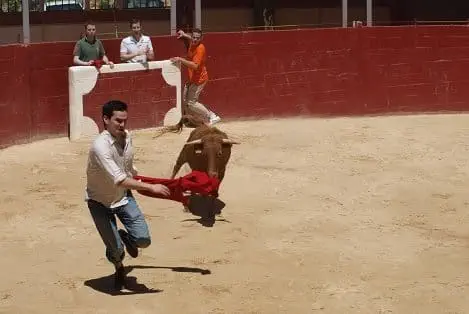 Visiting a city as big as Madrid and managing to see and do all it has to offer is no easy task. From sprawling museums to traditional restaurants and bars, every corner you turn uncovers a spot that draws in tourists and locals alike.
But there is only one activity that Spain has unique. Bullfighting. We offer the best bullfighting adventure for begginers, wich mix adrenaline, fun, nature, outdoor, culture, and entertainment. A unique activity to make your Madrid visit an unforgettable and epic experience. Our Baby bull running.
This is a bloodless and respectful activity. We are going to run with heifers, and the only injured could be you. Dont worry we're professionals and we will trained you before to get in the arena. We will be take care of you, and prepare you to run with the baby bulls.
To your bacherlor party in Madrid, to your Madrid stag party, to your friends trip, and others celebrations. come with us!
Transport included

Baby Bull Running

Games

Open Bar

Experienced monitors
Are you ready to take your love of the outdoors and adrenaline to the next level? Look no further than the CampoToro bull experience! Whether you're a seasoned athlete or a newbie looking to push your limits, there's no better way to experience the thrill of an adventure than by taking on bullfighting´s toughest challenges.
Baby bull running offer the ultimate rush. And with breathtaking scenery as your backdrop, you'll feel truly alive as you conquer each obstacle.
But baby bull running isn't  just about the adrenaline rush – they're also a chance to connect with the natural world, the bull breeding  and push your own boundaries. You'll gain a new appreciation for the beauty and power of the brave bull.
So what are you waiting for? Take the leap and experience the thrill of the bull experience in nature. With expert guides and full equipment, you can rest assured that you'll be safe while you push yourself to new heights. Book your adventure today and get ready to live life to the fullest!.
Contact us at campotoro.es@gmail.com.