Where to See Bullfighting in Madrid Experience Year-Round Thrills!
Are you wondering where to see bullfighting in Madrid beyond the summer season? Look no further! Our exclusive Bullfight Ranch Tour offers an unparalleled opportunity to witness this iconic Spanish tradition throughout the year. Discover the art of brave bull breeding and immerse yourself in the captivating world of bullfighting, all in the heart of Madrid.
Explore Brave Bull Breeding: At our Bullfight Ranch Tour, you'll delve into the fascinating intricacies of brave bull breeding. Knowledgeable guides will enlighten you about the heritage, care, and dedication involved in raising these magnificent animals. Interact with the bulls and gain valuable insights into their upbringing.
Engage in Live Bullfighting Demonstrations: Witness the heart-pounding action of live bullfighting demonstrations. Accomplished matadors showcase their skills and courage in a dance of tradition and bravery. Feel the energy as man and beast come together in a mesmerizing display of artistry.
Year-Round Access to Bullfighting: Unlike most bullfighting events that are restricted to summer, our Ranch Tour offers year-round access to bullfighting. This means you can enjoy the excitement and spectacle of bullfighting any time you visit Madrid. Don't miss this unique opportunity to witness this cultural phenomenon up close and personal.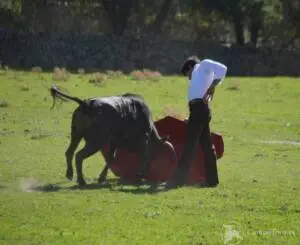 Educational and Enriching Experience:
Our tour is not just entertainment; it's an educational journey. Learn about the historical significance of bullfighting in Spanish culture. Understand the rituals, customs, and traditions that make bullfighting a cherished heritage.
Book Your Bullfight Ranch Tour Today: Ready to experience the thrill of bullfighting in Madrid? Book your Bullfight Ranch Tour now! Click [here](insert link to your website) to reserve your spot and immerse yourself in the world of brave bull breeding and live bullfighting demonstrations. Make your visit to Madrid unforgettable by embracing this unique cultural experience. Hurry, limited spots are available!
For more information on the history of bullfighting, visit Madrid Tourism Board and History of bullfighting.
Where to see bullfighting in Madrid.
For a truly exceptional and authentic bullfighting experience in Madrid from October to May, our Exclusive Bullfight Ranch Tour is your gateway to this mesmerizing world. Immerse yourself in the legacy of brave bull breeding and witness the passion and bravery of bullfighting up close. Book your tour now and let the magic of Spanish tradition unfold before your eyes in this unique seasonal opportunity!
Contact campotoro.es@gmail.com